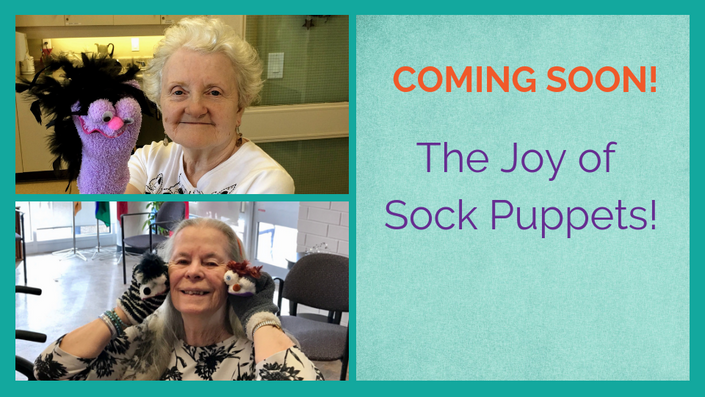 The Joy of Sock Puppets!
A Playful Approach to Reducing Stress for Caregivers and Enhancing Quality of Life for Family Members or Clients with Dementia
As a caregiver of a person with dementia, there are many ways the process of making and using sock puppets with your family member or client with dementia, will contribute to greater connection and much joy. When done mindfully, the art of co-creating opens up doors to playfulness, creativity, insight and understanding.
At Artful Connections, all our arts-based activities follow a 3 Pillar system.
Pillar 1 is about taking care of the caregiver first. The process of making a sock puppet for yourself first is fun & playful, while engaging a part of the brain that helps reduce stress & overwhelm.
Pillar 2 is about co-creating with your family member or client with dementia. You learn how to adapt the process used in Pillar 1, in order to create a sock puppet in a collaborative way that promotes greater connection, communication, problem-solving and many moments of joy.
Pillar 3 is about including a larger community of family and friends to share in a creative journey of learning, creating and playing together. You'll learn how to expand on the puppet-making and storytelling to bring your family member's stories to life through a puppet show. It's a magical way to reduce social isolation and loneliness.
Each video training module has its own downloadable set of instructions so you're never at a loss of what to do next! There are lots of tips to support you in the fun & creative adventure of making puppets with others.
As a student of the Artful Connections Learning Studio, you're able to join us in the "Artful Connections Learning Studio" private FaceBook group. It's your opportunity to ask questions and receive a little extra guidance and support directly from Shelley (and from other students!).
We look forward to welcoming you to the amazing community of people who are using puppets to make a difference in the lives of the people they care for.
Happy Creating!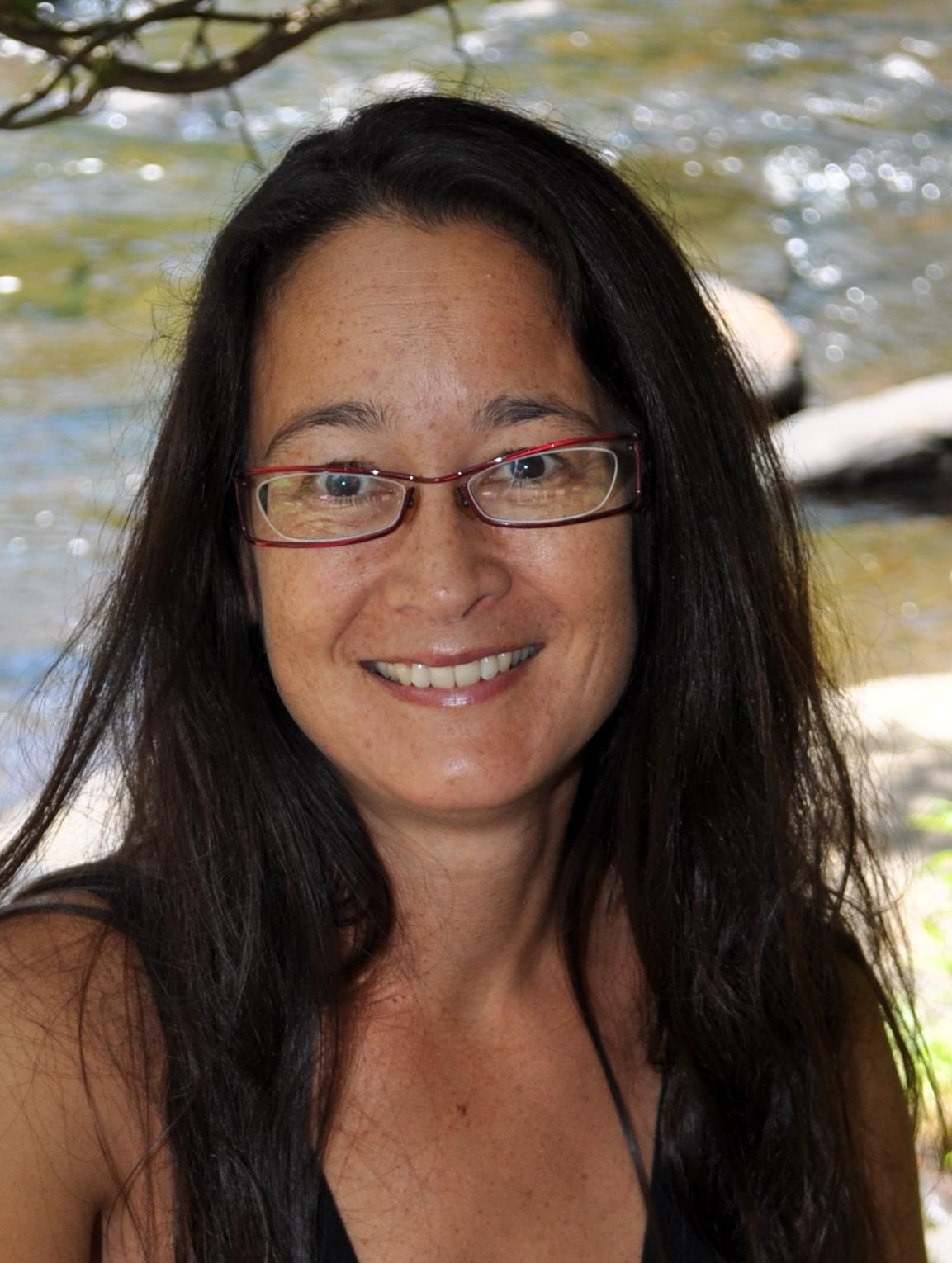 "Shelley King embodies Play, Fun and Laughter while giving people the tools to navigate difficult times and emotions safely and creatively!! Her Puppeteria workshops and services inspire the imagination while gently helping participants bring out their true Inner Child. For healthier individuals, families and organizations alike, Shelley King and Puppeteria are a must!"
Cynthia Mitchell, Life Coach, Educator, Speaker (www.sweetperspectives.ca)
Your Instructor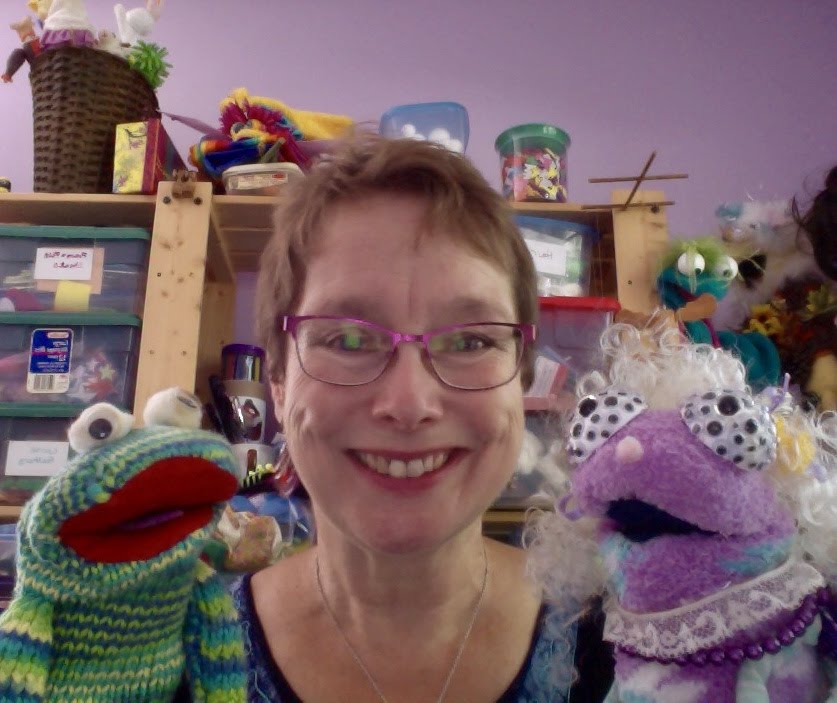 Shelley King loves sock puppets! Well okay - she loves all puppets, but sock puppets are her favourite. Why? Mostly because they're so darn cute, fun to make with other people, and portable to carry around. Yes; Shelley always has a sock puppet in her purse or pocket.
Shelley has been using puppets in her life and work for the past 4 decades; as a parent, educator, social worker, caregiver, entertainer, and expressive arts practitioner. Her experience in working with children, people with developmental disabilities, survivors of abuse, community groups, and elderly seniors has affirmed many times over, the incredible benefits of using puppets not only as a source of entertainment and play; but as a tool for building relationships, augmenting communication, problem-solving, storytelling, educating, self-expression, entertaining, and simply having fun & playing. In fact, this tool is so powerful and effective, Shelley has made it her life's mission to share the processes, strategies, and creativity of using puppets with as many people as possible to help support them in the work they do with others. As Shelley is always saying, "Puppets are just too great a tool, for people not to be using them!"
Frequently Asked Questions
When does the course start and finish?
The course starts now and never ends! It is a completely self-paced online course - you decide when you start and when you finish. Access to the Private "Puppet Talk" Facebook group is also available to you immediately so you can meet your fellow students, introduce yourself and let us know what is on your mind.
How long do I have access to the course?
How does lifetime access sound? After enrolling, you have unlimited access to this course for as long as you like - across any and all devices you own.
How much time will I need to set aside to go through the workshop?
Everyone has different demands on their time, so this workshop is entirely self-paced, meaning you can take as much or as little time as you like. Once you have gathered all the materials you want for making your sock puppet, most people need about an hour to complete the puppet. Of course, it depends on how simple or elaborate your puppet design is. The activities vary in length of time, but each activity includes the approximate timing, to help you with your planning.
What format is used for the workshop content delivery?
The workshop includes Videos, Worksheets, Activity Sheets, live Question & Answer sessions, and access to a private FaceBook Group to ask questions, share successes, bounce around ideas and give feedback to fellow students! Shelley will check in throughout the week to stay on top of answering questions and providing guidance.
What Happens Next?
Your "Sock Puppet" experience starts as soon as you click the "Get Started Now" button above. Once you click the button, you'll be taken to our secure checkout. After your registration is complete, you'll be sent an email receipt followed by an email welcoming you into the program and providing you with your login information to your course portal.
At the time of registration, you'll receive a link to the "Artful Connections" Private FaceBook group, where you can introduce yourself and get to know other students from the Artful Connections Learning Studio. Shelley will be checking in daily to answer questions and participate in the conversations.
You have immediate access to the workshop. It is self-paced, so you can work through the modules at your own speed. You have lifetime access!
Please check out the Q&A Section, but let me know if you have any questions that aren't answered there. I can be reached by email at [email protected] or by phone or text at 705-957-9030.
I look forward to meeting you soon!
Creatively Yours,
Shelley